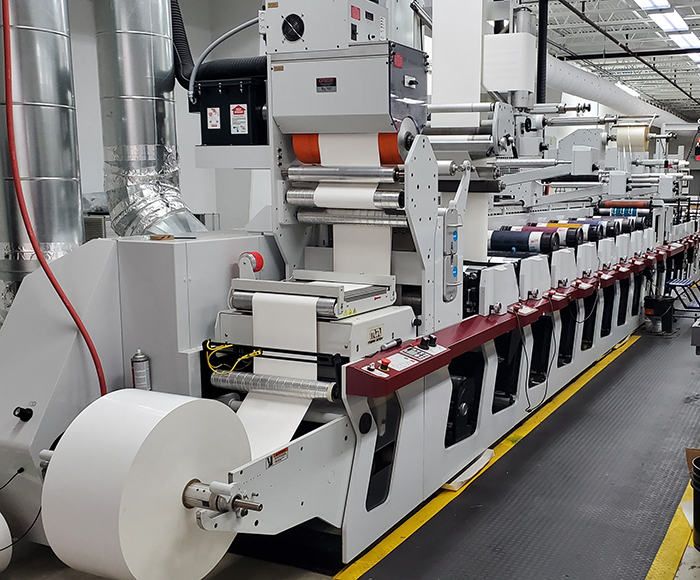 Flexography could be classified as a bastard (our own definition) of the letterpress process.
It uses an inked, raised surface to print. However, the plates are mounted with great accuracy around print cylinders. Most plates are made from a photopolymer material that will lend itself to making the curvature around the cylinders (back in the dark ages we used rubber plates). So, if we are printing a 4-color label we have 4 plates mounted on 4 different cylinders of the same diameter. After these 4 cylinders are brought in register with each other, they are synchronized with a rotary die or other cutting tools. After die-cutting, the waste is stripped from around each label. When done properly, materials are passing through our presses at speeds exceeding 500 ft per minute. Registration is checked by monitors mounted on presses to magnify registration targets.
Flexography is limited only by our imaginations
We can separate the web, print on the adhesive side and then put the 2 back together, turn the web over to print the reverse side. Obviously both sides of the web can be printed if the substrate is a tag material or if it is a pressure-sensitive label that needs printing on the back side. We are equipped to permit line-hole punching with male and female dies for data processing. These presses also have fan-folders for your computer forms.
All our flexographic presses are multi-color. Some as few as 6 colors, most are 7 colors, and some as many as 12 colors. Most are prepared for 4-color process capabilities and all for less demanding spot color printing.